Town Hall memorial of War
by Florian Pfeuffer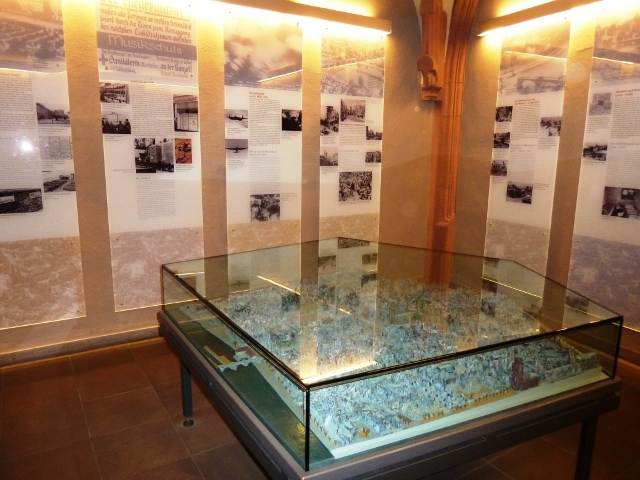 Inside the Town hall you can see memorial of war, which reminds us of the heavy bomb raid of Würzburg on the 16th March 1945. The major attack was run in three waves and started at 9.25 pm and ended at 9.42 pm. The first wave marked the targets, the second threw heavy bombs, to destroy the roofs, and in the third wave 300.000 stick bombs were dropped. Here at the wall you can see one. These bombs caused a fire, which was up to 2000°C hot and so huge that it could be seen in 240 km distance.
So the bomb raid lasted 17 minutes only and the fire destroyed about 89% of the city centre and 65% of the marginal districts. In about 20 minutes 5000 civilians died. If you look at the model you can get a good impression how the city looked liked after the attack. The reconstruction started as a volunteer work, since the 18th December 1945 everyone had to help to carry 2 700 000m³ debris away. The rebuilding was finished in the year 1967. Now at every 16th of March all bells of the churches ring at the time of the raid and on every Friday at noon a prayer for reconciliation is held in the St. Mary's Chapel.
Townhall - Outside
by Anne Scheuerpflug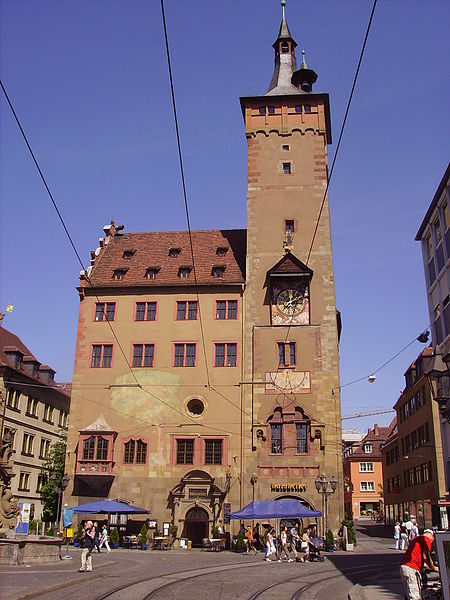 The townhall of Würzburg is one of the oldest town halls in Germany and consists of many different buildings that were built in different styles and epochs. So it looks very interesting. It was originally the seat of an episcopal official. In 1316 the city administration bought the tower and began to use it as a town hall. In colloquial language the whole building is called 'Grafeneckart', but actually it is just its oldest part. The Romanesque tower has a height of 55 metres and was built in the 13th century. On the west side you can see a red building in the style of the late Renaissance. In the 19th century a cloister was attached to the northern side. In 1986 the southern part of the building was completed. So you can see it has always been expanded over the years. On March the 16th in 1945 when Würzburg was bombed, the town hall, our 'Grafeneckart' , was the only building that was not destroyed.

to the top