Dom St. Kilian
The Würzburg cathedral is a special landmark that can be seen from all over the city. It is near the market square and the river Main. It is said to be the fourth largest Romanesque cathedral in Germany. The construction began in the year 1040 and it was completed in the year 1250, when the East towers were finished. The baroque stucco was created from 1701 to 1704 to decorate the interior, but it was completely destroyed in the bomb-raid on 16th March in 1945. The Dome has been newly renovated and is shining in new splendour since December 2012.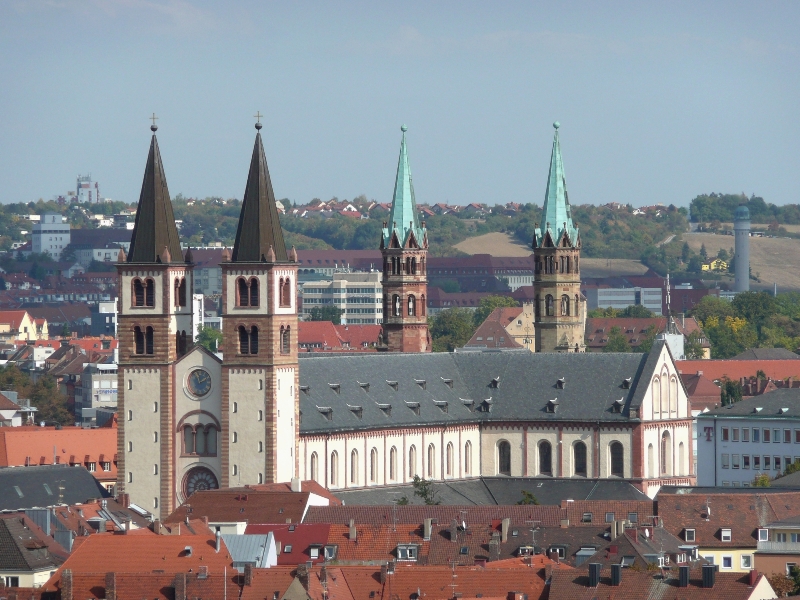 Portal Door Of The Würzburg Cathedral
by Mira Krischke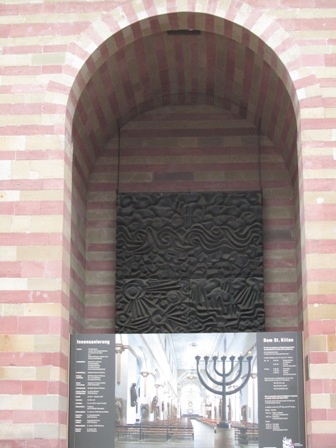 If you stand in front Dom St. Kilian, which is Würzburg's most impressive cathedral, it is worth to take alook at the portal door, the main entrance of the cathedral. The door was designed by Fritz Koenig between 1964-1967, he is a famous sculptor who also designed a very famous work of art "The Sphere," which once stood in the plaza between the two World Trade Center towers in New York. At first glance you might think that this door consists of waves and different shapes only. But if you look very closely, you will realize that it tells you stories, different biblical stories from the Old Testament.
At the top you can see the creation of the world, you see how earth and water divide
On the left underneath there are creation of fish, birds and the creation of human beings
Of course it shows the story of Adam and Eve, too. They are in paradise and stand under the tree of the knowledge of good and evil, but the serpent tempts them into eating the forbidden apple. Here you can see the serpent/snake directly next to them.
After doing so they become ashamed of their nakedness and God consequently expelled them from paradise
The whole artwork is a message for the citizens and visitors of the Cathedral because maybe you know that the city of Würzburg was almost completely destroyed at the end of the second World War in 1945 and this the Cathedral was destroyed too.
So when the people of Würzburg and the priests of this Cathedral started to rebuild this church again, they did not want a reconstruction of the old door. The portal door should become a new and modern door, as a symbol for a new beginning in Würzburg.

to the top